Looking for family vacation ideas?  Enter this Branson Vacation Giveaway!
Enter to win a Branson, Missouri Vacation. ONE ENTRY PER HOUSEHOLD. **PLEASE NOTE: This offer is part of a timeshare and you may be contacted by the company after entering.**
This vacation offers you and your family deluxe accommodations for 3 days, and 2 nights conveniently located in the heart of Branson. You will also receive a $30 dining certificate and 2 adult tickets to a show or attraction of your choice and depending on the season, you will have up to 70 to choose from. ( Additional adult and children's tickets are also available at a discounted rate.) Branson has made itself a world-class destination featuring all types of live entertainment. Choose from Country, Comedy, Magic, Big Stars, Production Shows, Variety Shows, Family Shows, 50s, 60s, and 70s music productions and more.
Only available to residents of:  NE, KS, OK, TX, MN, AR, MO, LA, TN, KY, IN, OH, IA, MI, WI, IL. (Your internet service provider must show you as being located in one of these states or the giveaway won't display for you when you click the banner below.)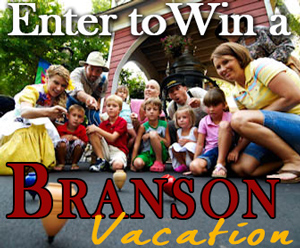 Not finding what you're looking for? Search for it on Google:
Thanks for reading,
Thanks for visiting! This is my personal blog and the opinions are my own, unless otherwise stated. This post may contain affiliate links or sponsored content. You are invited to read my entire Disclosure Statement. All logos, trademarks, and service marks are property of their respective owners and are only used on this site for illustrative and informational purposes. If you have questions or comments, please feel free to contact me.